A short circuit walk takes you through the Zumsteins Historical Area, with educational signs at various points along the way.
Visitor Facilities at the Zumsteins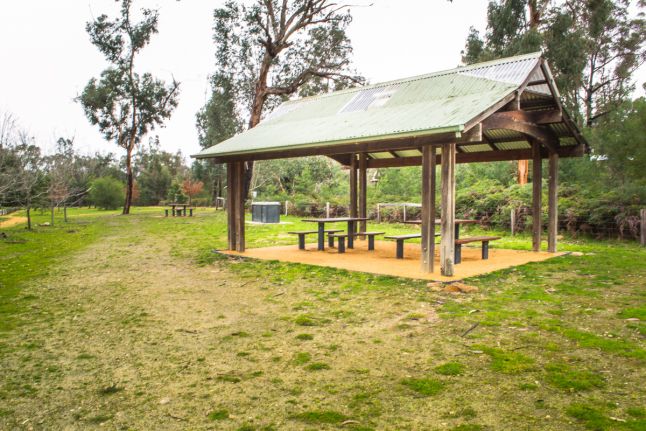 Zumsteins features excellent picnic facilities including electric barbecues, picnic tables and multiple undercover areas. Wheelchair accessible toilets are also present.
The MacKenzie River at the Zumsteins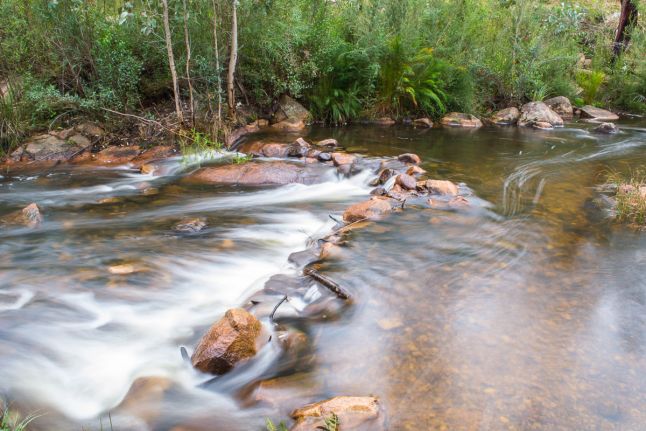 You can take a short stroll along the banks of the MacKenzie River along a beautiful wooden board to a viewing platform, which overlooks a pretty section of the river where the water rushes over rows of rocks.
The boardwalk and viewing platform is fully pram and wheelchair accessible.
Spend an afternoon exploring the MacKenzie River as you walk upstream to
Fish Falls
(a fairly easy walk) and continue up to the spectacular
MacKenzie Falls
(a bit more strenuous).
Walks from the Zumsteins Picnic Area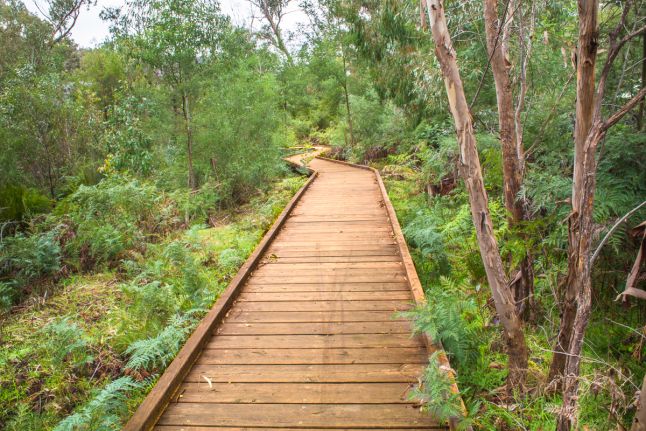 The following walks begin from the Zumsteins Picnic Area
Historic Area Circuit Walk 250 m
Fish Falls 2.3 km
MacKenzie Falls 3.7 km
Cooinda Burrong Junction 4.6 km
Wartook Valley Trailhead 10.5 km
History and information about the Zumsteins
Information signs at Zumsteins Picnic Area and Historical Site display the following text
For thousands of Victorians, Zumsteins is a name that conjures up timeless memories of carefree family holidays, filled with human laughter - a testament to the vision and dedication of a remarkable pioneer couple who carved out of this bushland one of Australia's first truly authentic holiday retreats.
A Vision Realised
Walter Zumstein first visited this site in 1906 while working as a young beekeeper for Barnes Honey. In 1910, he established his own apiary here, with 60 hives and a small timber cottage. After active service in WW1, he returned with his Scottish wife Jean, and decided to supplement their modest income by establishing a small 'tourist retreat'.
During the 1930s the couple built three pise, or rammed earth cottages, plus a tennis court and a large swimming pool fed by the river. They planted pines and poplar trees, and built timber bridges across the river. Walter and Jean were charming hosts, and in time 'Zumsteins' became a renowned holiday retreat. The couple remained here until the late 1950s, when they moved to Horsham. Walter died in October 1963, and his ashes were scattered here at Zumsteins.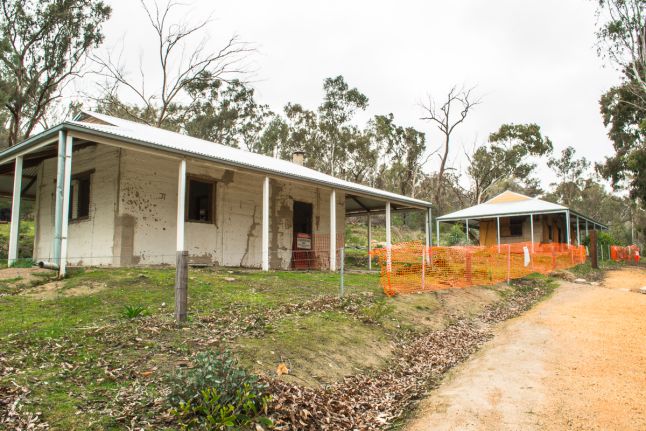 Under the Shire's management, Zumsteins continued to grow, with many families developing strong connections with the place and returning year after year. But after the Grampians National Park was declared in 1984, a new focus on the area's natural and cultural values led to growing concern about pollution to the river - and the eventual closure of the campground in 1994.
However, the community's dedication to Zumsteins had deep roots. When the authorities began removing some of the older European trees, the ensuing public protests saw the development plans overturned - and Walter Zumstein's arboreal legacy restored.
More recent events have wrought further changes. Heavy floods in 2011 led to the redevelopment of the picnic area and more recently due to fire damage in 2014, European trees have been replanted to return some of the heritage that has been lost over the years.
At the Centenary of Zumsteins in 2013
, people came from far and wide to celebrate their connections with one of Victoria's most enduring bush landmarks.
Today, walking around Zumsteins, you may in your mind's eye hear the laughing voices of kids playing in the pool or Walter Zumstein sharing a nature story with his young fans. Those days may be gone, but their cherished memory lives on.
Source: information sign at Zumsteins, presented by Parks Victoria with images provided by Horsham Historical Society.
Zumsteins is the legacy of Walter and Jean Zumstein, who built and loved this place - sharing its beauty and rustic charm with all who visited.
They were a gentle and genial couple who had a unique view of life, a generosity of spirit, and a deep-seated love of nature. Walter was described as a "generous and gentle giant" who people young and old adored.
In many ways, Walter Jean and their daughter, Jeannie, were an integral part of the attraction of Zumsteins - a place that became synonymous with its hosts.
"Wally Zumstein's vision of wating to share the beauty of nature certainly gave me and our family many happy times."

Bob Hutchinson

"Little robins and other small birds were so used to the gentle ways of Walter Zumstein that they would fly very close to him as he worked."

Peter Finlayson

"He had an amazing affinity with nature, living with the animals and the bush, never trying to change it to his will."

Anne Wilksch
Source: information sign at Zumsteins, presented by Parks Victoria with images provided by Horsham Historical Society.
Zumsteins was a popular place to play, especially during the long, hot, lazy days of summer.
As the MacKenzie River was the main water supply for Horsham, swimming was not allowed. But in the mid-1930s, Walter Zumstein dug a large swimming pool using a pick, a shovel and his wheelbarrow. It took five years to complete, with various friends and visitors helping with the cementing. The earth from the pool excavation was used to build the pise cottages - another lengthy labour of love.
Pipes fed fresh water into the pool from upstream and drained it onto pasture across the river. Walter charge 6 pence for a day's swimming, collecting the fees in person and writing names in chalk on the back of an oven tray. He also set up a tennis court - creating a simple but welcoming retreat with something for everyone.
"It was cool under the trees and you could watch the kids swimming in the pool. And of course people used to throw coins in, much to the kids' delight. It was a very attractive place."

Eric and Evie Barber.
Source: information sign at Zumsteins, presented by Parks Victoria with images provided by Horsham Historical Society.
With the expansion of roads and bushwalking tracks through the Grampians during the 1920s and 30s, more people began to look for comfortable and relaxing holiday accommodation in the area.
In response, Walter Zumstein built three pise or rammed earth holiday cottages here in the 1930s, using soil excavated from the nearby swimming pool. The cottages were simply named Green, Blue and Orange - after the colour of the painted lintels over the doors and windows.
Despite being quite basic, the cottages were very popular during the summer and Easter holidays, when they were always fully booked. Today, they are recognised on the Victorian Heritage Register as some of the very few pise-style buildings using local materials from the early 20th century.
"Zumsteins had many attractions but none of the glitzy things seen as important in tourist places today. Zumsteins had a naturalness, a simplicity that provided holidaymakers with the restoration of soul that a good holiday could provide. A major reason it was held in such high regard was because of the gentle natured man who through hard work had created an oasis that he loved and wanted others to enjoy too."

Peter Finlayson
Source: information sign at Zumsteins, presented by Parks Victoria with images provided by Horsham Historical Society.